By Bill Wilson, Senior Writer, World Wide Wilson
CHICAGO - If you're from Chicago, you remember the day. You remember where you were, who you were with. Whatever the scenario, you were
listening to Bob Costas
:
"Seventeen seconds... from Game 7 or from championship number 6. Jordan... (crosses over Bryon Russell) Open... (MJ hits 'The Shot') Chicago with the lead!"
Lifelong Chicagoan and Bulls fan Rob Borski was at a local watering hole that night, wearing the Bulls "3-Peat" championship shirt he had bought 5 years earlier. He says that he'll never forget that night. "I remember it vividly," Borski says with his thick southside Chicago accent. "I remember it so well because when MJ made dat shot, I jumped out of my chair and spilled thick & chunky salsa all over my favorite Bulls shirt! Now dat sucked."
Although this sounds like an unfortunate outcome from an otherwise amazing night, Borski wasn't too upset. "Well, after they won, I thought - 'Hey! I'll just get a "Repeat 3-Peat" shirt! Ya know? I mean, it was da perfect solution. I woulda just got on the internets and bought one the next day, but my cousin messed up the installation of the new
AOL 4.0 disk
we got in da mail. I thought he knew what he was doing. Guess not..."
After a long night of partying with "some of da guys," Borski says that he slept in the next day and didn't get around to looking for a shirt until a couple days later. But by that time, they were all sold out... except for one. A slimmer, 25 year old at the time, Borski was just looking for a medium, white t-shirt. The only one he could find - an XXL.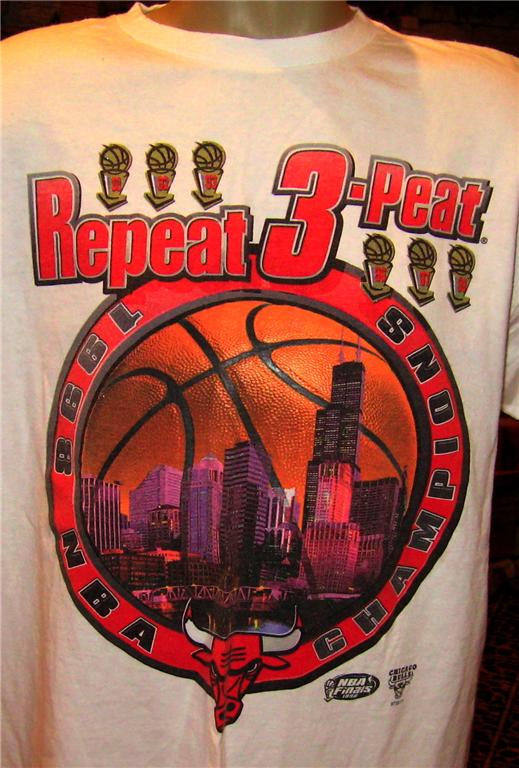 "I didn't really have any choice. The championship parade was da next day, and I couldn't be seen wearing dat salsa-stained shirt from '93. So I went ahead and bought it. I mean, I had to." The shirt served him well at the parade and the Championship party in Grant Park. But due to its XXL size and the ensuing collapse of the Bulls dynasty, it was soon relegated to the back of his drawer as a "pajama shirt." An inauspicious end for a shirt that "meant so much."
Almost 12 years have passed, and Rob Borski is not quite the same guy that he was back then. Married for ten years and now with 3 kids, Borski not only has a different lifestyle, but he has put on a few pounds. Some might even call him "fat." His excuse is quite simple, though.
"My wife is a good cook. What can I say? She makes da best pierogies south of Comiskey." Thoughfully, he adds, "Yeah, there are negatives to da extra pounds - my back hurts sometimes, I don't have da agility I once did. But dat shirt. I love dat shirt."
Yes, after 12 long years of exile, that "Repeat 3-peat" shirt - now a collectors' item -
finally
fits Rob Borski. It's a good thing he didn't buy a Medium.